If you have any questions, or to report any infractions, please contact us.
We value attorney interaction on Avvo and believe it provides an excellent way to strengthen your online reputation and connect you with the people who need your knowledge and services.
There are 20 contributor levels on Avvo: lawyers earn points and progress to higher levels by connecting with the Avvo community and using Avvo as a platform to demonstrate their legal knowledge. Answer questions in our Q&A forums, publish informative guides on the issues and practice areas you know best, and evaluate the contributions of your peers. The more you interact with the Avvo community, the easier it is for potential clients near you to find your profile and contact you. (Please note that your contributor level has no effect on your Avvo Rating.)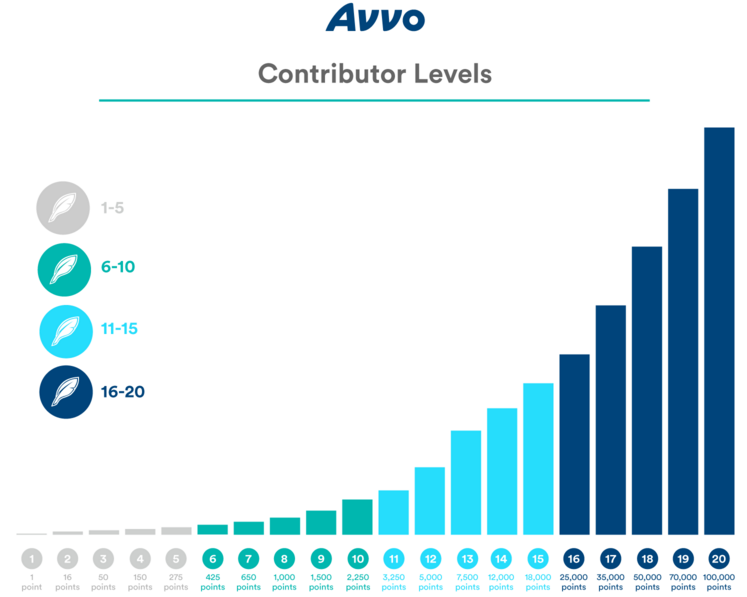 How do I earn points? Attorneys can earn points by...
Connecting with the Avvo community
Posting one of the first three answers to a question (+10 pts)
Answering a question within the first hour (+5 pts)
Agreeing with a recent question's answer (+2 pts)
Commenting on an answer (+2 pts)
Publishing a guide (+15 pts)
Marking another attorney's guide as helpful (+2 pts)
Helping Avvo maintain quality forums and information
Correcting the practice area assigned to a question (+5 pts)
Receive an "I agree" vote on one of your answers (+5 pts)
Receive a "Marked as helpful" vote on one of your answers (+5 pts)
Receive a "Best answer" vote from a question's asker (+10 pts)
Receive a "thumbs up" vote on one of your guides (+3 pts)
Receive a "Staff Pick" designation for one of your guides (+40 pts)
Educating others through Avvo
Participate as a guest-blogger (+100 pts)
Guest-host a webinar (+1,000 pts)
Frequently asked questions
How do the different types of points affect the Leaderboard?
All the points you receive on Avvo contribute to your overall Contributor score, and that score determines your rank on the Leaderboard.
What does the "Staff Pick" designation mean?
Not all guides are created equal. When we come across a guide that we feel is especially helpful to people (i.e., well written, relevant, and original), we designate that guide as a Staff Pick, which will add 40 points to your Contributor level score.
All decisions as to how and whether points are awarded are determined by Avvo in its sole discretion. Avvo reserves the right to remove or adjust points awarded to anyone and to modify or discontinue the point system at any time, with or without notice.